Col du Sanetsch or Sanin was on my list of "climbs to do" for quite a long time and last Wednesday I finally rode it starting at the wine growing village of Conthey, west of Sion. As I had about 2h of drive to get there, I only sat on the saddle at 11am and thus suffered a bit from hot temperatures in the lower part of that long, partly steep but very scenic (especially towards the end) mountain road leaving the main Valais valley in direction Bernese Oberland.
I had lunch (huge plate of pasta) at a beautiful roadside restaurant at about 1200m, only less than half way up, and continued ascending, leaving the forest at around 1500m and attacking the first serious ramps and a few nice hairpin sections.
Passing the small settlement of Tsanfleuron I passed a first small tunnel before entering the 800m wet but lit tunnel through a huge rock. It goes slightly uphill and has a few holes drilled towards the valley side so that natural light also enters. As there were quite a few cars on the road I didn't dare to install my tripod for a selfie on the bike but continued towards the col instead.
On the parking at the col summit there were many cars, presumably hikers which explored the surroundings. I took a few pictures and continued down the other side, past lake Sanetsch and towards the Auberge du Sanetsch where the paved road ends. One can hike or mountainbike down the other side to Gsteig or descend by cablecar (they also take bicycles).
At the auberge I met a few other cyclists on road bikes who had previously passed me at a tearing pace earlier on at the last bends before the col summit. The terace was quite crowded with folks coming up from both sides and enjoying the delicious valaisan dishes and the fantastic panorama. I wasn't hungry but only quaffed two small beers before attacking the long descent and hoping to escape the dark thunderstorm clouds building up rapidly.
Downhill was fun however I took it slowly inside the tunnel and even stopped for a few photos. The first half of the way it rained a bit but the road stayed dry. I had a quick coffe in a small bar down in the vineyards in order to not fall asleep while driving back home. A fantastic but long and hard climb.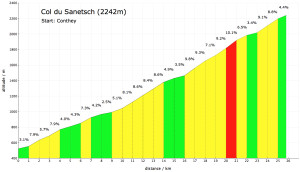 Unfortunately my iphone battery was empty before arriving at the car which explains why the last 9km weren't recorded anymore.